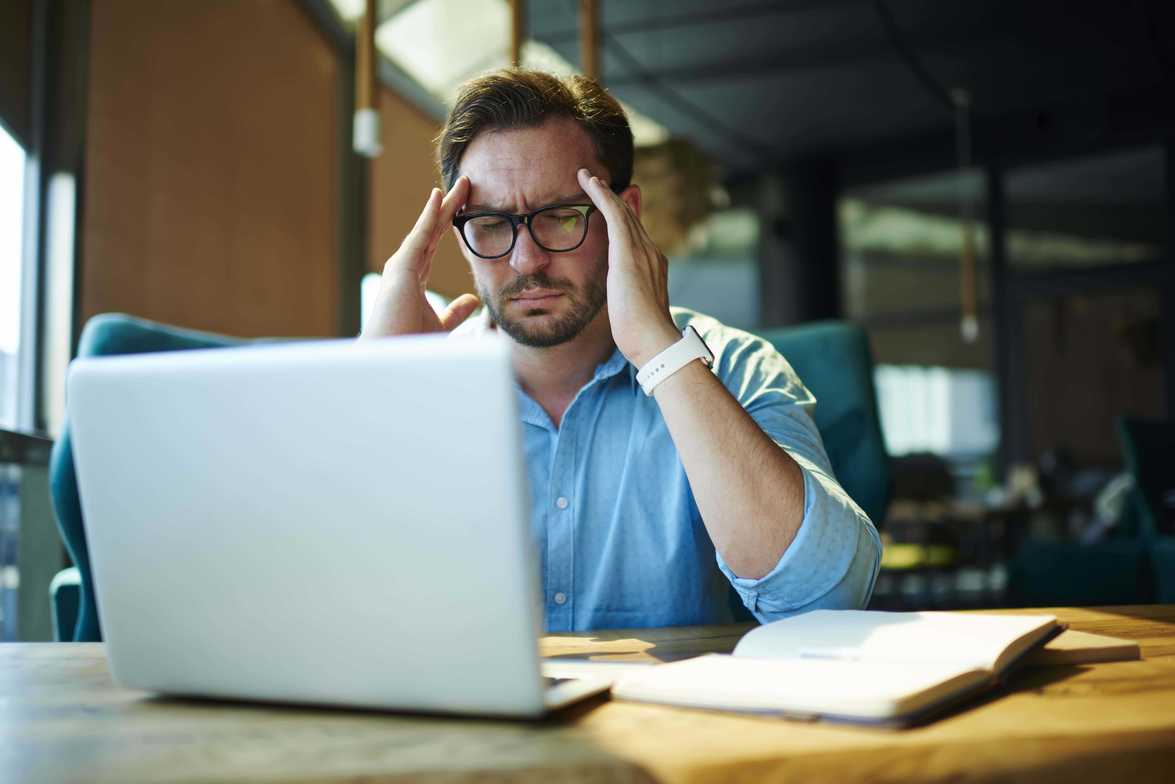 I know what you're thinking already: "Not another thing I have to worry about."
As a small business owner in any industry, there are a zillion little issues trying to take up space in your mind. While some are more important than others, most of them have to be addressed at some point.
That nagging issue of your website and whether it makes you vulnerable to litigation is one of those ones that doesn't just go away on its own. In fact, it gets louder with time. And it's not going away.
Web accessibility litigation for websites that were restrictive to users with disabilities continued to grow in 2021.
You may have already gotten some of these warnings across in your email inbox or social media feed.
About 61 million Americans are living with a disability. That's one in every four people. As a medical clinic owner, it's vital to be ADA compliant with your website. ADA compliance means ensuring that all of your content is accessible to everyone, including those who have disabilities.
The Department of Justice, or DOJ, published the Americans with Disabilities Act (ADA) Standards for Accessible Design in September 2010. The Act states that electronic and information technology (IT) must be easily accessible to people with disabilities.
Having reviewed hundreds of clinic websites, we are certain that even the best clinics in operation today have websites that violate the ADA. However, all is not lost. In this article, I'll go over the top ten questions we are asked about this issue.
Please note that it is focused on United States law. Canadian law will be covered another time.
1. What is the ADA?
ADA compliance refers to accessible design standards set by the Americans with Disabilities Act. The act states that information technology, like websites, must be easily accessible to those with disabilities.
The ADA dates back to some of America's fundamental foundations. The U.S. Department of Justice, or DOJ, was created in 1870. It enforces federal laws that guarantee equal opportunity for all Americans regardless of their race, gender, age, or disability.
The DOJ has jurisdiction over the Americans with Disabilities Act (ADA). The act focuses on ensuring that digital content, including websites, is accessible to all citizens.
The Americans with Disabilities Act (ADA) is a federal law that requires businesses, governments, and non-profit agencies to make appropriate accommodations for people with disabilities.
Even though the ADA was passed in 1990, many clinics have not updated their websites to comply. In fact, some estimates suggest that there are over 2 million public accessible websites in violation of the ADA.
Congress created the ADA standards to ensure that all U.S. citizens are able to access information, regardless of their disability. An ADA-compliant website adheres to these specific guidelines.
With no direct regulations on website design, there has been a lot of confusion about this legislation.
Many website owners still aren't clear about precisely what it means to meet these standards. On top of this, in 2008, Congress amended the act. These amendments made the Act more web-oriented in recognition of the changing ways Americans consume media today.
This lack of clarity leaves websites susceptible to court orders while waiting out years' worth of lawsuits from those claiming damages. Typically, claimants bring cases due to their inability to access information easily and without difficulty. Often the sole root of these issues is that most clinic owners and their website designers didn't know any better.
Title III of the act requires that every owner, lessor, or operator of places where the public gather is duty-bound towards providing individuals their legal right to an inclusive experience in accordance with ADA standards. That includes offering all patrons whatever accommodations they need so long as these things do not interfere whatsoever with anyone else's opportunity.
It's not always clear how ADA rules will be applied to any particular website. Still, it's generally a good rule of thumb to be cautious and prepare for the undeniable truth that the demand for compliant websites will only increase.
In an effort to make things more straightforward — or you could say "more accessible" and perhaps even more confusing for you to understand, many states have adopted their own accessibility laws.
Our research showed that the volume of accessibility-related lawsuits filed against websites has shot up over the past few years. Plaintiffs have been increasingly successful with these suits, forcing website operators to take action.
Our stance is that it's not worth it for most organizations to gamble that a court will rule in their favor. Additionally, it's not worth the hassle and court fees that result from litigation.
In light of the fact that 26% of Americans live with some form of disability, making your clinic's website compliant has a strong ethical component.
The goal of any clinic is to assist people. The purpose of any website should be to make information readily available and accessible. A website that puts even inadvertent roadblocks in the way of a citizen trying to seek help has failed at its purpose.
2. What Does It Mean To Be Compliant With ADA?
The WCAG 2.1 guidelines are the latest guidelines used to determine if your website is accessible and ADA compliant. Additionally, they help define which level of conformance it meets. According to these guidelines, the content of a website must be:
Perceivable

Operable

Understandable

Robust

Let's take a high-level view of each of these requirements in the context of ADA compliance. From here, you can understand how they relate to your clinic's website.
Perceivable: All information and user interface (UI) should be presented in ways that users can perceive. Non-text content, like pictures and video, should have a readable alternative. For example, users with visual impairment should be able to select text alternatives for images and video.
This requirement also extends to website colors and layout. For example, websites should make it easy for users to see and hear content. Some of the areas covered by WCAG are instructions to not use color or audio as the only means of conveying information.
Operable: This section states that all UI components and navigation should be easily operable. Additionally, developers should make all web pages functional via keyboard.
The operability section covers several scenarios related to how users interact with a web page. For example, keyboard shortcuts shouldn't require specific timings.
Other elements of this section suggest that websites should always give readers enough time to read the content. Further areas dictate that flashing graphical content shouldn't cause seizures or other physical reactions and be easy to navigate and find information.
Understandable: This section suggests that web content should be understandable. For example, content should be legible and use language that users can easily understand. In situations where jargon or idioms are used, there should be a mechanism for explaining terms, likewise, with abbreviations.
Other areas covered include the requirement of simplified alternative texts. Additionally, WCAG 2 suggests that web pages should operate in a predictable way, and they should be set up to help users avoid errors or mistakes.
Robust: The robust section calls for content that is robust enough to be interpreted by a variety of current and future users agents. For example, assistive technologies, like text-to-voice screen readers.
ADA compliance dictates that the content your website offers must be available for all, whether it is visual or auditory. That means that every page on your site should be text-based HTML with minimal JavaScript, Flash, or other embedded objects.
It also means that features like images in your articles can't use click-through navigation and that all content is available in standard browser viewports.
3. How does one's website become ADA compliant?
Some websites may be compliant already without you even knowing it. While for others, a website might need to be rebuilt from scratch to ensure ADA compliance. Meeting the requirements could require several changes in coding and design.
Going through the above POUR requirements are the best start to assessing your level of compliance.
Getting your site up and running with ADA compliance can take time and knowledge of web development. Websites that do not meet the requirements of ADA compliance are vulnerable to lawsuits.
If you are a Clinic Sites client, the good news is that your website was built with a foundational level of compliance to accessibility laws.
4. What are the most common issues with websites that hinder access?
Some of the more common issues that can hinder access to a website include:
Using images like infographics instead of text to convey information

A layout that is not easy to navigate

Design features that make it difficult to use the site

Use of Flash files, which cannot be read by screen readers and cause problems for people with disabilities who use modified browsers or special assistive software.

A website is not responsive to mobile phones.


Use of pop-up windows instead of visible content or other multimedia elements.
5. What are the possible consequences of not following ADA standards?
The consequences of not following ADA compliance regulations can be severe. If a website does not meet the requirements, it may result in legal action being taken against it.
We've found that most lawyers of defendants recommend settling with the plaintiff outside of court. Our research showed that the average settlement was around $10k-$15k. Following the litigation, site owners may be forced to create a new site compliant with ADA standards and pay legal fees.
6. What are the benefits of making your website ADA compliant?
Aside from avoiding the disruption or costs that result from legal action, there are several other benefits to making your website ADA compliant.
Social responsibility:
General kindness tells us that whether it's software, websites, mobile apps, or other pieces of software if you ignore accessibility, people with disabilities are negatively impacted.
If you make your website ADA compliant, all citizens will have easy access to information that they can use in their everyday lives. Making your site accessible is a social responsibility that all organizations should consider when developing a web presence.
Protection from litigation:
With all the grey and "room for interpretation" of the law that lawyers love so much, it's tough to guarantee anything in regards to 100% protection from litigation. However, when you take some documented steps to improve your website's accessibility features, you are adding layers of protection that significantly lessen the risk of facing lawsuits.
Reaching seniors:
Every year, more seniors are gaining access to digital devices and the Internet. Ensuring websites are accessible for everyone should be the goal of every organization.
Reaching the margins:
It will be easier for people with disabilities to access information on your site and gain knowledge. A website that reaches more people allows you to connect with a broader audience, transforming some into loyal patients.
7. What should I do if my site isn't ADA compliant?
If you discover your website is not ADA compliant, there are several steps you can take to remedy the situation:
Understand the minimum standards required and how they affect your visitors.
Invest in expert services to help you work toward accessibility compliance if you need extra assistance.
Make an action plan to determine which steps will get your site compliant, who will be responsible for each task, and when you should implement them.
8. What does the future hold for ADA compliance?
The future of ADA compliance will likely see increased enforcement of the standards by the DOJ. However, there may be changes in how companies must comply with accessibility standards since they conflict with other laws that protect intellectual property.
The future will see an increase in mobile-friendly websites as smartphones or tablets become more accessible to use for people with disabilities.
9. What Can I Do Right Away?
Making your website ADA compliant is more important than ever. Complying with web accessibility standards is a legal requirement, but public and private organizations also consider it a social responsibility.
The ADA has strict guidelines about what you can and cannot do online, but they're incredibly confusing even to experienced web developers.
We have been working tirelessly to create an affordable way to help you fix your website before you get slapped with a lawsuit.
Clinic Sites' compliance service works with you on how to fix them! We'll also provide regular reminders so that when your site gets updated, it's always in compliance!
10. What Has The US Government Done To Help?
There is some great news if you are a tax-paying, small business in America - did you ever think you'd read those words?
Did you know that Section 44 of the IRS Code permits a tax credit for small businesses to assist businesses with complying with the ADA?
Additionally, Section 190 of the IRS Code allows a tax deduction for all businesses. Here's a quick link to the form.
The tax credit is available to businesses with total revenues of $1,000,000 or less in the previous tax year or 30 or fewer full-time employees. This credit can cover 50% of the eligible access expenditures in a year up to $10,250 (maximum credit of $5000). You can read more about that here and then bring it up with your accountant.
You can use the tax credit to offset the costs of removing barriers and making alterations to improve accessibility in your business.
The tax deduction is available to all businesses with a maximum deduction of $15,000 per year. You can claim the tax deduction for expenses incurred in barrier removal and alterations. We recommend you talk to your accountant but a website transition from "non-compliant/non-accessible" to "compliant/accessible" qualifies for this credit.
Clinic Sites Is Here To Help (You Sleep At Night)
We know this is largely unknown, out of your control and can be a stressful topic for you.
While the problem may be unnerving, the solution is simple.
Thankfully, the Clinic Sites team has known about website accessibility for many years. We built our proprietary platform with compliance in mind. The pages are organized right down to the base level coding to be compliant. The additions to make your site more compliant are simple.
Our more advanced compliance packages offer you next-level compliance coverage with a widget, an accessibility statement and the behind the scenes upgrades to accommodate all the customizations you've added to your site.
If you want to make sure you're protected from litigation, please don't hesitate to contact us and talk about it.
Get Compliant Today. Contact Our Team Today
If you would like to learn more about what we can do to get your website compliant with ADA standards,

check out this page.



If you'd rather schedule a call with someone on our team, don't hesitate to schedule a call today.

Click here to book a call.